Pastor Paul's monthly article (taken from the September edition of The Chimes)
Pastor's Reflections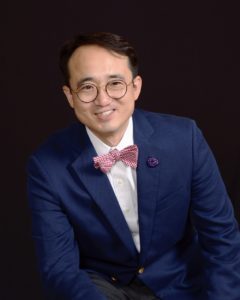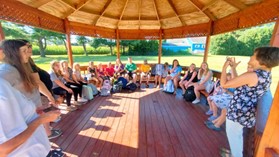 Kick-off Sunday is coming. We will have blessings of the backpack and hot dog Sunday on the second Sunday of September. Students of all ages are invited to come with their backpacks and will have fun between the services starting at 9:15 am, and we will have Hot Dog Sunday after the 10 am service. It will be the time we celebrate the new school year and pray for our students, teachers, and staff.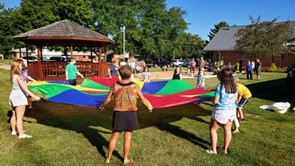 Besides all the fun games and blessings, there will be a fun auction fundraising to support our teachers: throwing water balloons at the pastor. Rory Smith is making a standing target with a hole, and I will be standing behind it with my face in the hole. And the winners of the auction will throw water balloons. Doesn't sound fun? Please let me know if you want to be a target with me. There will be a donation box to that you may contribute. All the proceeds from the event will be donated to purchase teachers' supplies for teachers in our school district.
For some, it is the first year of their new school. For some parents, it is the first time they send their children away. Many might be thrilled to begin a new journey of meeting new friends and participating in new sports or bands. Some of them might also be anxious to step into a new chapter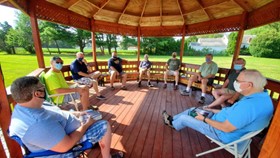 It will also be a Kick-off Sunday as a couple of adult Bible study groups will resume and launch. Wednesday morning group (9:30 am) will resume and start a new study with a book, Reckless Love, facilitated by Jan Glover. Thursday evening group (6:30 pm) will be facilitated by Nancy Pitsch with a book, Seated with Christ. Wednesday evening group (7:00 pm) will launch with 1 Corinthians. And you know our diligent and faithful Men's Group continues their Bible study Saturday at 8:00 am (breakfast at 7:00 am). There are so many things we celebrate in our beautiful community. And I encourage you to join one of them or more. Let us continue to bless, pray for, support, sometimes challenge (to grow together), and always encourage one another. Love you all.
We will continue our current sermon series on some questions about Jesus. Those questions are asked by some thoughtful people: some of the faith and some of the unchurched, the non-churched, and even the anti-churched. Some are curious to know more about Jesus and grow in their faith. Some others are suspicious and skeptical about what the church talks about and teaches about Jesus. I believe all those questions might be used for us to learn and grow more in faith as we ponder together. I want to invite you to question with me, think about them, and resonate for yourself, as Martin Luther the Reformer once said, "Only mad man doesn't doubt," and John Wesley, the founder of our Methodist Movement, said, "as to all opinions which do not strike at the root of Christianity, we think and let think." I hope we continue our precious tradition of studying, praying, growing, and encouraging together.
Peace In Christ,
Rev. Paul Lee