Pastor Paul's monthly article (taken from the July edition of The Chimes)
Pastor's Reflections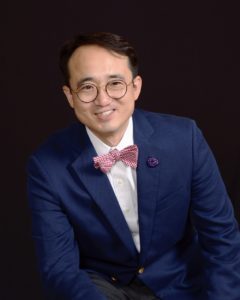 The United Methodist Church's calendar begins on July 1, and each pastor gets appointed/reappointed to a local church by the calendar. I feel honored and privileged to be reappointed to our beautiful church, the Wesley United Methodist Church, and walk with you in the 4th year.
Can you believe it's the beginning of my fourth year with the Wesley family? Time goes really fast. We've spent over two years in the pandemic and are going through the Endemic (End of the Pandemic). During the time of uncertainty, we have kept our faith and hope in the Lord and prayed and supported one another without ceasing. I praise God for your hard work and give you my BIG hands.
As we are trying to navigate the future of our faith community, I like to remind all of us of the essence of the body of Jesus Christ; the reason and purpose that God has gathered you and me in this family of God. It can be called by many names and theological terminologies; God's grace, unconditional love, solid doctrines and traditions, healthy bonding and relationships, etc. And I want to add one more thing to all the lists: Hospitality.
When you think of "Hospitality," you may think about serving, equipping, and entertaining others. That is also a suitable approach to understanding "hospitality." And there is something more, something profound that we may find in the Word of God, actions, and teaching of Jesus Christ, our Risen Savior, and inspiration of the Holy Spirit.
Henri Nouwen defines "hospitality" as "creating free space where the stranger can enter and become a friend instead of an enemy. Hospitality is not to change people, but to offer them space where change can take place." It is highly related to a safe place that God has created and opened wide for us and invited all of us, the people of God, so that we may get nurtured, grow, and encourage one another. Are we willing to receive God's invitation? Are we excited to get it into our hearts? Are we thrilled with the hope to create and invite others in the love of God?
Let me tell you a little bit about the four aspects/purposes of the church: Kerygma (the Word of God), Didache (Education), Diakonia (Service), and Koinonia (Fellowship). Here is a chart of how the Wesley family relates the four purposes of the church to our gatherings and ministries.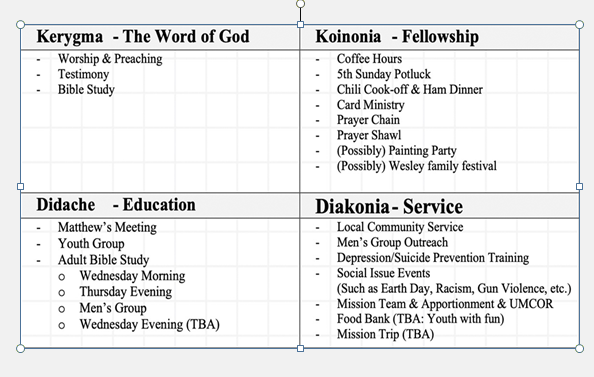 We will continue to navigate our ways to build one another up and continue our precious and sacred ministries of God in our community, local community, and the world. Please find detailed information about those four aspects/purposes and how we may manifest the love of God through our worships, gatherings, small groups, Matthew's club, pot-lucks, outreaches, etc.
Last month was hectic with the NIC Annual Conference, Kids' Stop-In (VBS 2.0), Joy Camp, Women's Lunch, Men's Group Habitat Humanity, etc. It's been so fruitful and hopeful. Please find the photos of those events/activities. I have seen God's hands among us and God's works through us. Let's keep up the good work. I STRONGLY encourage you NOT to WAIT, but PARTICIPATE and BUILD ONE ANOTHER UP. I strongly and heartily believe that God will do amazing things in us, among us, and through us. Amen.
Peace In Christ,
Rev. Paul Lee