Pastor Paul's monthly article (taken from the JUNE edition of The Chimes):
Pastor's Reflections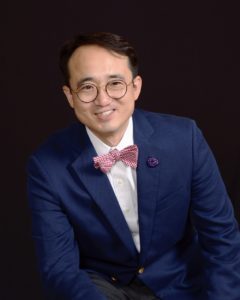 Do you remember your baptism? Some of you were baptized at an early age, and you don't remember yours. Some of you who have another denominational background or became a Christian later remember the moment of your baptism. I remember my baptism. I didn't hear any voice from heaven like Jesus' one, but I was overwhelmed with joy and delighted to be a member of the church. But there was one thing I couldn't comprehend.
I liked the church and loved my Sunday school. I talked to my pastor that I wanted to be baptized, but he said I had to wait for three months to be baptized, because he believed the person at the age of 15 and older could profess his/her faith and is eligible for the baptism. I didn't know much about the doctrine and denominational practices of faith, so I said, "Okay. I will wait." And I was baptized a few months later. I was so happy.
But I was still curious. How do I know if I'm qualified to be baptized or not? They said that I was not qualified the day before, but I became prepared on my 15th birthday. Did I somehow change on my birthday, and suddenly God recognizes my faith is genuine? How do we know if God sets specific qualifications for Baptism? Those were the questions I had at that time.
CDC announced new guidelines on May 13th for the fully vaccinated with much fewer restrictions. I was so delighted to hear that the experts expressed their confidence in the vaccination and that we may live with less concern and fewer restrictions. But I had similar questions I had with my baptism.
"I heard the news that we were highly recommended to wear masks yesterday. Now, all of a sudden, we are safe without a mask if we are fully vaccinated?" "Illinois Department of Public Health (IDPH) announced that we would move to Bridge Phase tomorrow (5/14) with masks. But CDC says it's all okay?"
It was very delightful, but a lot confusing. I've heard that a few of our Wesley family felt the same. During this Pandemic, wearing a mask and maintaining a social distance has been a part of life. Even if we know the new COVID safety guidelines, some of us are mentally and emotionally defensive yet. Some are quick to adopt a new lifestyle, while some aren't. So, I hope we, as a community of faith, respect one another with love.
Our Wesley Health team has gathered twice during the week and changed our church safety guidelines in response to CDC and IDPH's new guidelines. (I sincerely appreciate our Health team for their faithful leadership and tireless effort with more than ten times of meetings.) And I'm so pleased to move forth and see many of your faces without masks. Now we have many in-person small groups/Bible study and resume our 8 am service. I hope we are trying to re-vitalize our gatherings and ministries as a community of faith. Please read the bulletin and Chimes, and you may choose either 8 am, or 10 am service and worship God together so that we may have our vitality back.
Please find the detailed guidelines below.
1) Two Worship Services, starting on May 23rd (Pentecost)
2) Mask: With a vast amount of research, the CDC announced that fully vaccinated people could resume activities without wearing masks.
a) Those fully vaccinated (two weeks after the 2nd dose) may choose whether to mask or unmask indoors and
b) Those who are NOT fully vaccinated are recommended to continue wearing masks and maintaining social
c) If small group participants are all fully vaccinated, people may sit close in a room.
3) Worship, Singing, Coffee Hour, and Others
a) The Head Usher and ushers will continue to give us the instruction for seating: one household per pew with social distance.
b) The congregation may cautiously join in singing hymns in a low voice
c) Coffee and Donuts will not resume yet, but be announced later.
d) Both doors will be open for the entrance and exit
e) No need for an attendance log or temperature check
Peace In Christ,
Rev. Paul H. Lee