Disciple Bible Study: This year Wesley will be doing Disciple 3, don't worry you can sign up even if you've never done it before! Disciple is a 32 week intensive and powerful study that helps you dig deep into the bible and see what is says for our lives, our faith, our world, and our church. It's a big commitment, but one that can change your life! Disciple 3 focuses on the prophets of the Hebrew Bible and the letters of the Apostle Paul, and the theme is "Remember Who You Are." There will be two groups doing the study led by Pastor Jeremiah. One will meet from 9-11:30 AM on Wednesday morning, and the other will meet from 6:00-8:00 PM on Monday evening, both here at the church likely in the fireside room depending on our numbers. The Monday evening group can have child care as well if its needed, if there are parents who need child care please let us know ASAP and I will get to work on that. SIGN UP TODAY!
Study Classes begin on Wednesday, September 5th for the morning class, and on Monday, September 9th for the evening class.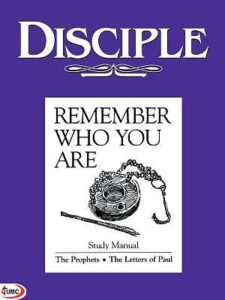 Sign up sheets are in the fellowship hall, you can also contact Tammy by email or by phone: 815-625-1968, office@sterlingwesley.org to get signed up!